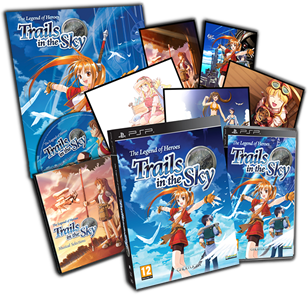 Exclusive Bonus!
Buy the amazing Collector's Edition of The Legend of Heroes: Trails in the Sky from the Ghostlight store and not only will you receive all of the contents below, but you will also get your hands on an exclusive limited edition rolled A1 poster featuring the Japanese cover art absolutely free! Just click on the button below to place your order - but hurry, when they're gone, they're gone!
* Subject to availability. Some countries excluded.
"
this needs to be on your radar...
"
9/10
Pocket Gamer

Embark on the largest adventure ever to grace a handheld!
Estelle Bright and her adopted brother Joshua set out on a long pilgrimage to become Bracers, sworn to uphold justice and peace in the land. But when a dark plot threatens to rekindle the sparks of war, their journey becomes an epic quest to protect Queen, country and honour.
Join the legendary Bracer Guild and travel the world on an epic quest to defend justice within the kingdom.
Enjoy over 50 hours of core gameplay, plus many optional sidequests.
Plan your strategies carefully, making the most of each character, weapon and ability.
The Collector's Edition includes:
UMD box featuring art from the original Japanese inlay
5 art cards (art from the original collectible Japanese telephone cards)
Soundtrack with a CD busting 33 tracks all packaged in a stylish slim jewel case with inlay
The Collector's Edition box
Awards




Reviews
"If you have a PSP and an interest in JRPGs, this needs to be on your radar."
9/10
Pocket Gamer

"Amusing characters, a rich setting and great mechanics. We're ready for part 2."
9/10
GamesRadar.com
"The best JRPG you haven't played yet."
Joystiq.com
"Dynamic Combat mechanics, amusing writing and a fascinating narrative."
8.0
IGN
"Without any doubt one of the most impressive and submerging JRPG games that I have experienced on the PSP."
8/10
Girl Gamers UK
"Trails is a fantastic game."
4.0/5
RPGamer.com